About us
C.L.G. Ghaeil Leitir Ceanainn
Letterkenny Gaels G.A.A. Club
We have a rich history and are successful both on and off the pitch.
Our History
The C.L.G. Ghaeil Leitir Ceanainn, or Letterkenny Gaels GAA Club, was formed in March 1996 by four dedicated men with the vision to bring Gaelic games to the local community. Since then, the club has grown and developed and now fields football and hurling teams at all underage levels for boys and girls, as well as adult teams in football, hurling, and ladies football. In addition, the club is also active in promoting the Irish language and traditional Irish music, song, and dance. These achievements result from the hard work and dedication of the club's members, supporters, and sponsors.
Formation
An idea that started as a conversation between neighbours around December 1995 quickly grew arms and legs and progressed to the point where we became an affiliated Club of Donegal GAA in March 1996. All this work was down to the vision of four men whose DNA was and remained steeped in the GAA. After testing and becoming convinced of the level of interest in the local community following a public meeting in January 1996, these four men, James Frain, Enda Mannion, Garry Coll and Michael O'Malley, commenced the application process to affiliate with Donegal GAA in February 1996. Following several meetings and approval of our affiliation, CLG Ghaeil Leitir Ceanainn / Letterkenny Gaels GAA Club was formed at its inaugural AGM on Sunday, March 10th, 1996.
Inaugural AGM
As these four men knew well at the time from their involvement in their native clubs, they could not set up and run a new GAA Club on their own. That initial display of community support was evidenced by a well-attended inaugural AGM when every position on the Club Executive Committee was filled and team management was put in place. We fielded an Under 12 Team in the then Eastern Division and an Adult Football Team in Division 4 of the all-county League. Initially, we played our Home games at various locations around Letterkenny, including Errigal College, Letterkenny Rugby Club (then located near the Silver Tassie) and on lands owned by the then Letterkenny Town Council off the Port Road, then known as 'Heaton's Field'.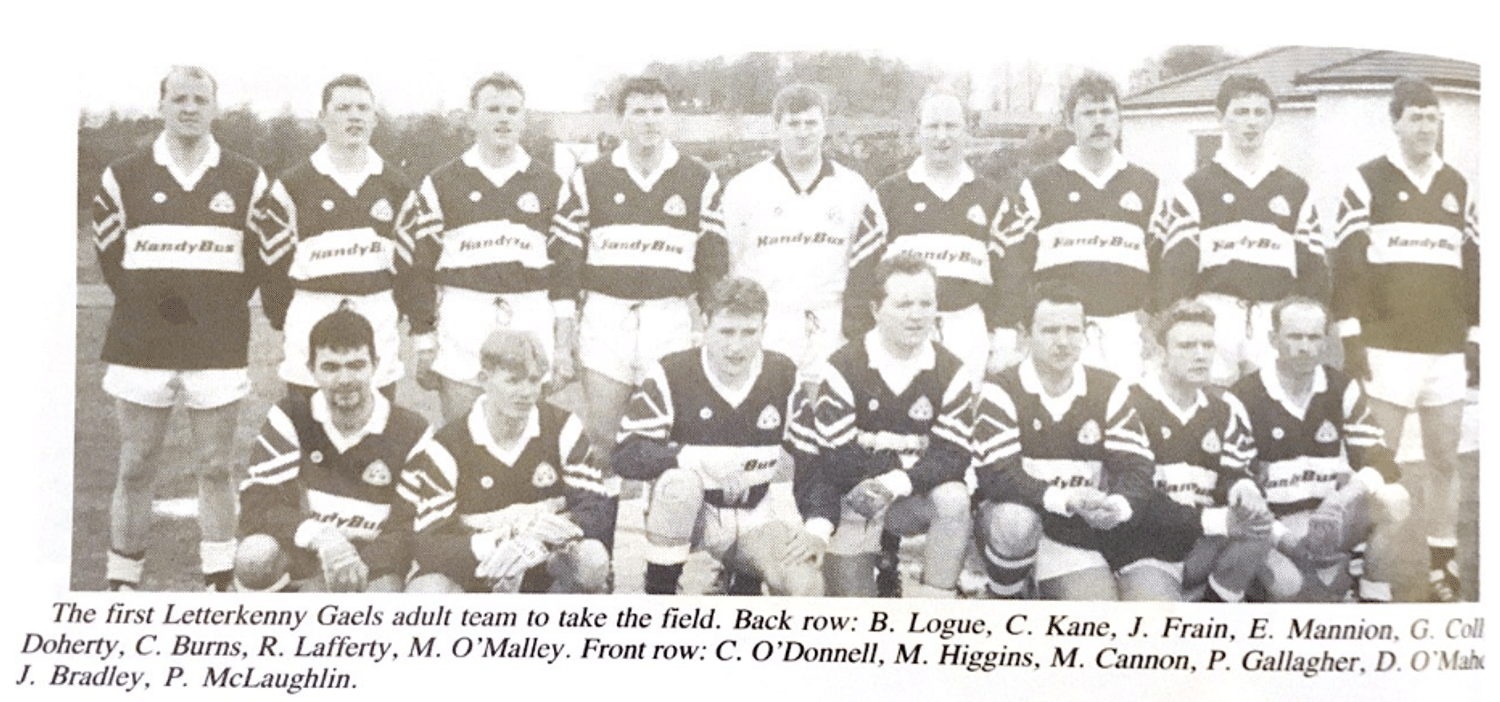 Finding a Home
In 1999, we acquired land at the Glebe jointly with Letterkenny Rugby Club and set about setting up a home there. We jointly developed a full-size GAA playing field, a Rugby Playing Field, and an underage Training Field shared by both Clubs, together with a new Clubhouse incorporating six Dressing Rooms and other facilities to replace the basic changing rooms. This was achieved with the assistance of funding from the National Lottery Sports Capital Funding program, supplemented by borrowings and funds raised by both Clubs.
Adding New Facilities
With an incredible feeling of pride and satisfaction in our achievement, we played our first senior competitive match on 'Páirc na nGael' in March 2008. The spacious new Dressing Rooms have been in full use since and have been commented on favourably by many visiting Clubs. These facilities, coupled with the 'Gaels Club Room' have enabled us to host Blitzes and Development Squads and other Club events, including our annual venture into amateur Drama with the successful staging of several Comedy Plays which have proven to be a big hit within our club and the wider community. We recently installed an entire stage set with a lighting and sound system in the Gaels Club Room and hope to reintroduce our annual comedy plays in this excellent setting.
Club Development
Over the years, our club has ticked all the boxes in fulfilling the objectives of the GAA and is very much family and community-driven. Our club has continued to grow and develop to the point where it now fields Football and Hurling Teams at all underage levels for boys and girls and three teams at the adult level in Football, Hurling, and Ladies Football, all of whom have enjoyed various successes which bodes well for the future.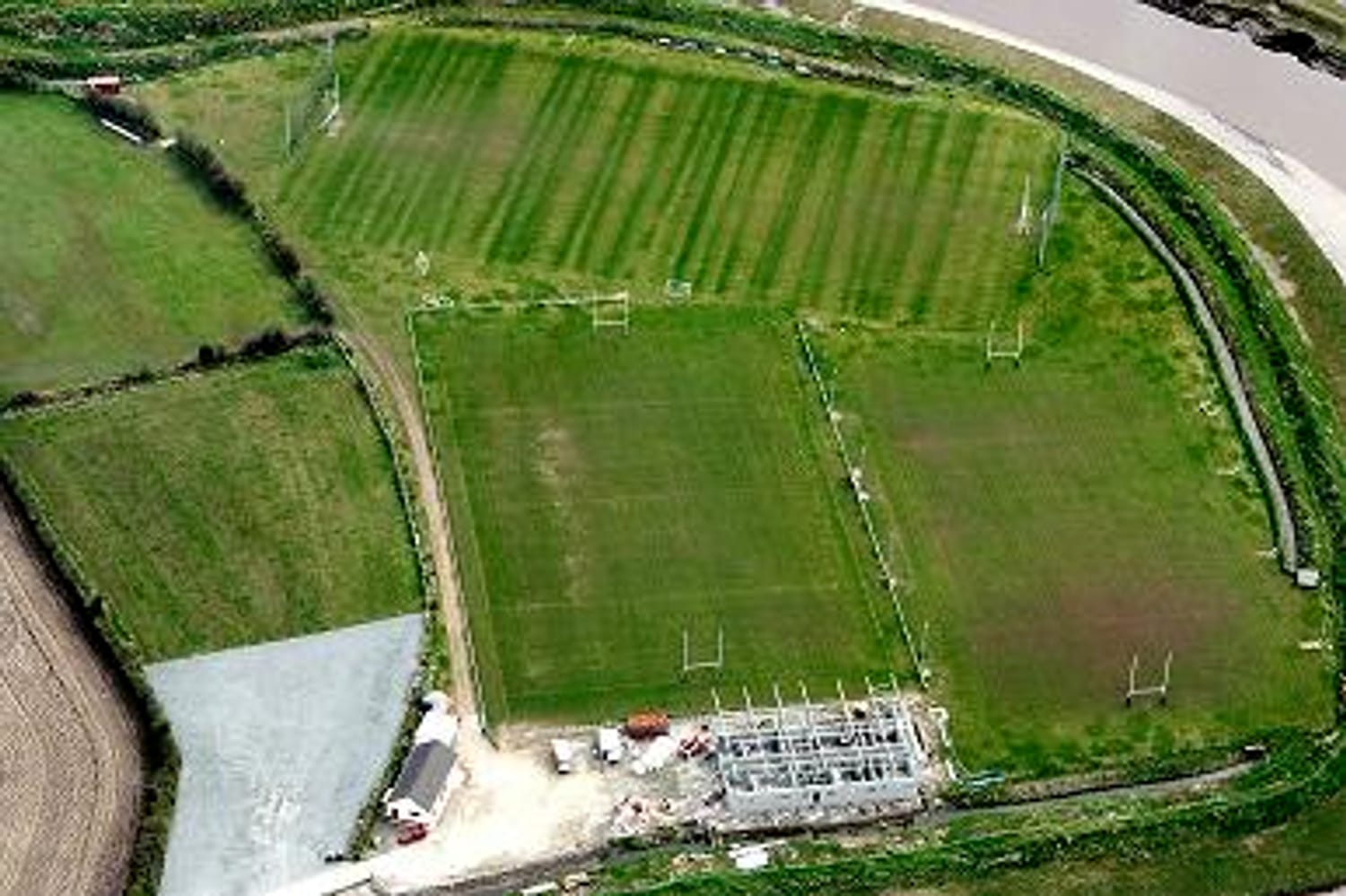 Youth Teams
Children get their first experience of Gaelic Games in our Under 6 Nurseries and the opportunity to develop their skills and talents with the expert assistance of qualified Coaches. New Members are always welcome. Several underage players have been selected for County Football, Hurling, and Camogie Development squads, representing our club at the inter-county level.
Irish Culture and Community Involvement
Our club is also active in the promotion of our Irish Language and traditional Irish Music, Song, and Dance in the annual GAA Scór competitions and achieved great successes winning County, Ulster, and All-Ireland titles in Scór na nÓg and Scór Sinsir in recent years.
The community support that was evident at our club's formation has remained steadfast and consistent throughout our existence, and this is something that is both cherished and valued by us all.
Continued Progress
All that has been achieved is a result of dedication, hard work, and great determination to ensure that we survive as a Club and thrive. This continued progress is down to the hard work of our Club Executive Committee, the dedication of Club Officers and Sub-Committees, all players, Club Referees, Team Managers, Coaches, Assistants, Parents, Supporters, Club Lotto sellers, Club Bingo Team, and all our sponsors who continue to support us every year.
In Memoriam
As with all Clubs, it is also timely to remember our deceased members and their family members who were with us at the start of or during this incredible journey and, sadly, are no longer with us to be part of our achievements and our future. May they rest in peace.
Looking to the Future
We also look with pride and confidence to our younger members and their families, knowing that the strong foundations built all those years ago will enable this and future generations to create more great memories and achievements for our club and the wider community.
Gaels Abú!